The solar training instructors at Ambassador Energy are experienced professionals who take time from their daily work of selling, designing and installing PV systems to share their knowledge with others. They strive to make the classes engaging and ensure the students leave with the desired skills.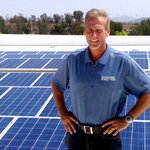 STEVE FULGHAM Co-Founder, CEO and Visionary of Ambassador Energy
Steve holds a C-46 Renewable Energy Contractor license, a C-10 Electrician license, a B General Contractor license, the NABCEP PV Installation Professional Certification (#031310-74) and the NABCEP PV Technical Sales Certification (#012911-35). He cut his business and technology teeth in the computer hardware and software industries, rising to Senior VP of a Fortune 100 software company. Later, he built custom homes and light commercial as a GC and saw the future in solar, when in 2007, he crafted the unique Ambassador Energy Agency/EPC/Training model. Today, Steve heads Ambassador Energy and facilitates special training segments.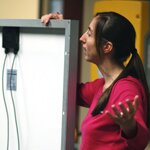 CATHERINE KELSO Director of Training for Ambassador Energy
Catherine is a Certified General Electrician and one of a small group of women in the solar industry who has earned the NABCEP PV Installation Professional Certification (#031310-124) and the NABCEP PV Technical Sales Certification (#032412-25). She launched her solar career in 2005 in PV technical support and battery-based inverter repair, providing even more value with her off-grid knowledge. Today, she leads the Ambassador Energy training team teaching curriculum such as the 32-hour NABCEP EL training/testing, preparation courses for NABCEP's exams for PV Installation Professional and PV Technical Sales, and Ambassador Energy's New Agency Boot Camp.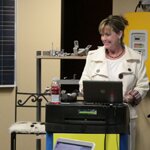 KELLY SMITH Co-Founder and President of Ambassador Energy
As the official head-cheerleader of Ambassador Energy, Kelly brings a vast professional sales portfolio to the solar industry. She thrived in sales and marketing for two decades after earning her Journalism degree from SMU. Today, Kelly, who has earned the NABCEP EL, teaches segments in the curriculum, which are the Ambassador Energy sales "secret sauce" for our Agency family. With a few hours of instruction from her, new solar professionals glean insightful marketing nuggets, while established sales organizations get that "shot in the arm" that comes from her expertise and infectious enthusiasm for the solar industry.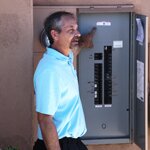 KURT SORENSEN Director of Field Support for Ambassador Energy
Kurt is one of the expert essays employees of Ambassador Energy. He is a licensed C-10 Electrician that has worked in the field of construction since he was able to drive, migrating seamlessly into solar PV and solar thermal years ago when Ambassador Energy was founded. Kurt has passed NABCEP EL and teaches PV installation segments of the training courses in Ambassador Energy's training facility and spearheads training opportunities in the field real-time at real installations throughout the country.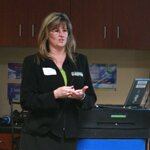 JULIA OLIVER Director of Operations for Ambassador Energy
Julia brings an abundance of expertise and enthusiasm to her work as Director of Operations at Ambassador Energy. In addition to always keeping her finger on the pulse of the Big Picture, she performs countless daily tasks, including, but not limited to: Managing office staff; Interfacing with Sales; Coordinating Procurement and Job Installations; Accounting; Human Resources; Interfacing with AE's strategic partners and vendors; Continually herding cats. Julia is also certified to proctor the NABCEP EL exam to Ambassador Energy College students, and is a vital member of the Ambassador Energy family.